First year: July 24-28, 2023 - Boston, MA

Stay tuned for 2024 dates
The PATHwayS Camp is a FREE 5-day, 4-night NASA camp for high school (18+) to graduate school students. Through this camp, students will participate in exciting field trips and work in teams to respond to the following challenge:
"Work in teams to design a fictional self-enclosed system that could be used to support human life on Mars for 1 year. How can you ensure thriving in addition to just surviving?  Consider the various aspects of living: health, communications, community, water, food, or energy systems."
The camp will include field trips and interesting presentations that will help guide students to design the life support system.
This camp is FREE for all students who are accepted. More details can be found in the brochure and Frequently Asked Questions below.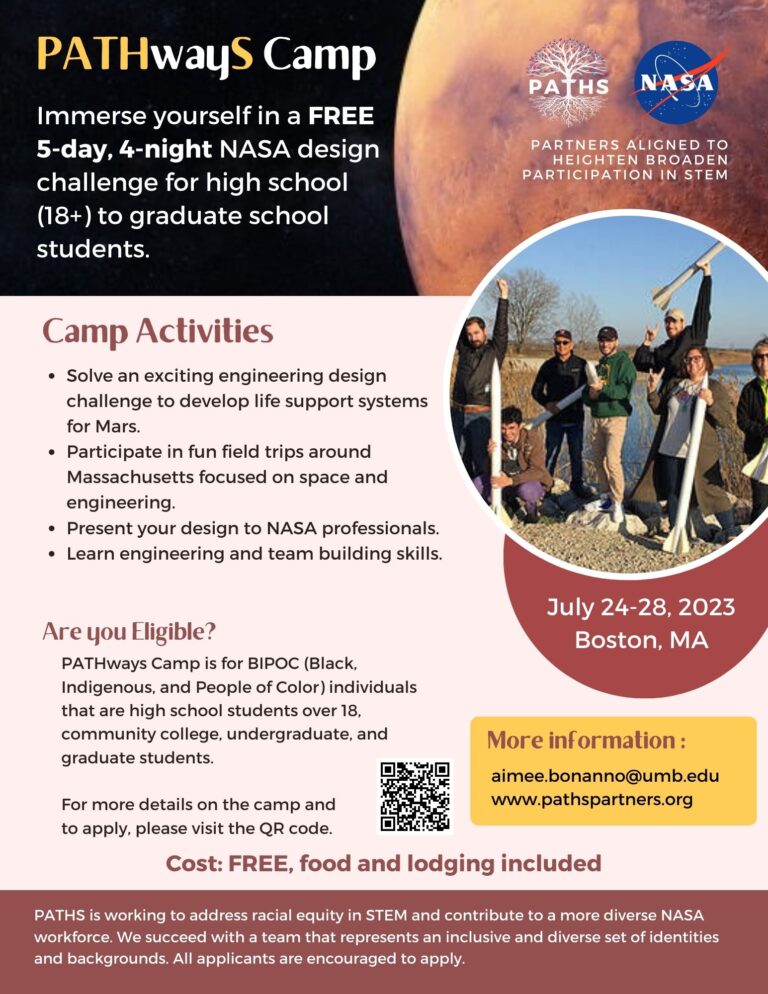 Frequently Asked Questions:
·       What should I expect out of the camp?
The camp is 5 days, 4 nights, and you will work in teams to respond to the challenge question noted above. The camp will travel in a van throughout Massachusetts and visit locations for exciting field trips that will help you design your fictional life support system. You will also meet with professionals who can help answer your questions and provide feedback on your design.
·       What is the cost for the camp?
There is no cost to you. Camp is FREE, including lodging, meals, and transportation during the course of the camp.
·       Where is drop-off and pick-up?
All campers need to be dropped off and picked up from Boston, MA. Exact location is TBD and will be updated shortly.
·       How many campers will participate in the camp?
We anticipate approximately 15 campers and 2-3 group leaders.
·       Do I need any special training or courses to participate in the camp?
No special training is necessary. An interest in the science, technology, engineering, and mathematics fields (STEM) is preferred.
·       What should I expect out of the overnight accommodations?
Campers should expect to stay in hotels and possibly tents/yurts. Overnight accommodations will change nightly as we travel around Massachusetts (TBD). Students will likely share rooms with other team members of the same gender.
·       I am not currently 18 but will turn 18 by the time the camp begins. Is that OK?
Yes, all camp members must be 18 by the time camp begins.
·       I may need special accommodations for the camp. Should I still apply?
Yes, please apply and note your needs at the end of the application. Feel free to email Aimee.Bonanno@umb.edu if you want to discuss possible accommodations ahead of time.